Lots of BoFs Happening Today
There are a ton of birds of a feather sessions happening today on some really interesting topics.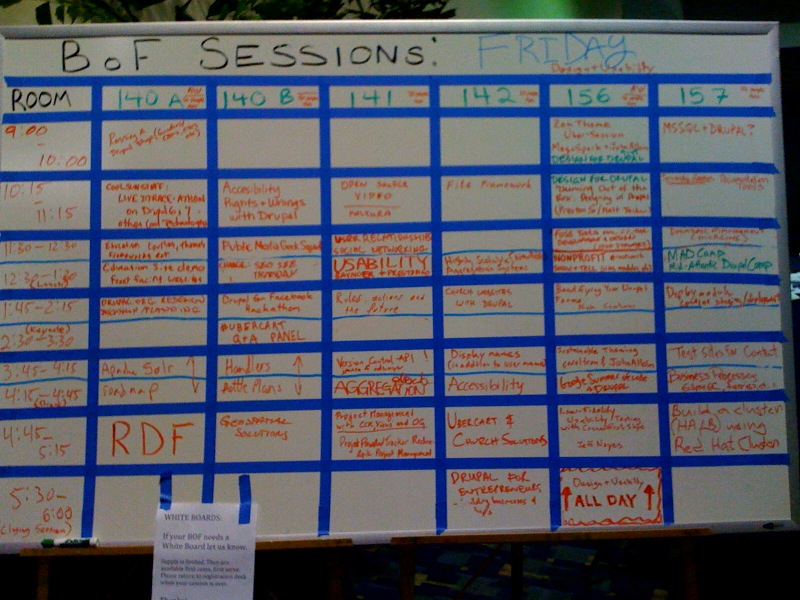 If you don't want to squint to make out that image, there's a list below of all these BoFs going on. For times and locations, check out the BoF board by the registration table. If you'd like to organize a BoF, there's still room on the schedule for sessions today and tomorrow, so head over to the board and set one up!
Running A Drupal Shop
Cool Sun Stuff
Education Site Demo
Drupal.org Redesign
Apache SOLR
Road Map
RDF
Accessibility Rights & Wrongs
Public Media Geek Squad
CHANGE SEO
Drupal For Facebook
Ubercart Q&A
Handlers
Battle Plans
Geospatial Solutions
OpenSource Video
User Relationships
Usability
Rules, Options and the Future
Version Control API
Aggregation
Project Management w/ CCK Views and OG
File Framework
Highly Scalable Aggregration Systems
CHURCH Websters w/ Drupal
Display Names
Accessibility
Ubercart & Church Solutions
Drupal for Entrepreneurs
Zen Theme
Design: Themeing Out of the Box
Foss Tools
Non-Profit Show & Tell
Beautifying Drupal Forms
Sustainable Themeing
Google Summer of Code
Low Fidelity
MS SQL + Drupal?
Database Management
MAD Camp
Delpoy Module
Test Sites
Business Processes
Build a Cluster
Public Media
SEO
Feature Building + Spaces
QuickBooks Ubercart Integration
Newspaper CMS Duplicating Efforts
OpenSource + Government
Drupal in the Real World
Mobile Drupal