Swag Your Site, Enter to Win a Free DrupalCon Ticket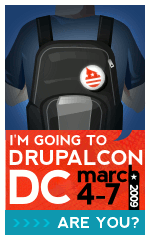 Have you swagged your site yet? Put one of these badges on your website, and you could win free admission to DrupalCon DC - plus you'll be helping us spread the word about the conference. All you have to do is swag your site, and then tell us that you did. It's that easy to get entered in the raffle.
We'll pull the first winner this Friday, January 16th, so post your badge soon!