OpenBand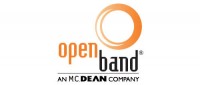 We help organizations to cross geographic, administrative, and cultural boundaries by integrating innovative content management, communications, and infrastructure solutions. The value we deliver goes beyond the technology, as we bring decades of experience in a variety of fields including software engineering, strategic consulting, content development, multimedia solutions, critical infrastructure, information security, and 24/7 customer service.
Working with government and international clients, we deploy multi-site solutions that deliver distributed content, communication, and identity services.
Our team of experts is ready to take mission-critical projects all the way from conception, through implementation, and to ongoing operations and support.