Alex Karshakevich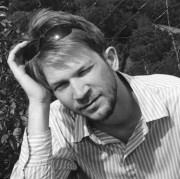 Software Engineer
Alex is a platypus of sorts for Openband. His portfolio packs not only application development, but platform development for e-commerce and search portals, as well as expertise in server layer applications. He's adept across the entire "technology stack," a talent crucial in today's culture of mashing many opensource applications and technologies into one project.
Alex works on social networking and online collaboration tools for OpenBand. One of his current interests is seeing how online discussions and interations are shaped by participants. In this, a major focus of his work is on the extraction and utilization of meta-data from nodes and other community-created information sources. He maintains User Relationships as well as the Drupal Universal relation API, a pseudo-API collection of hooks that can be used to give modules access to friend, fan, etc. information from any of the many, many relationship-building modules.
Alex's opensource history stretched back to his university days and an introduction to Linux. Learning and using Java got him "hooked" and his work as focused on opensource solutions ever since. His first web applications were built on LTMJ stacks (Linux-Tomcat-MySQL-Java) and was working on bug fixes in development frameworks in his freetime.
As his history would suggest, Alex sees Drupal foremost as an application framework, a thankfully open one which leverages community contributions and allows him to provide his own input. He takes pride in being able to work with other developers to not only find solutions but new issues to solve; it's "using tools made for one purpose to solve different kinds of problems" that keeps him coming back to Drupal.
And, as seems to be a newly discovered trend, a love of film photography (shared with Beate and others) ensures he get's away from his terminal every now and again.