Thomson Reuters and Open Calais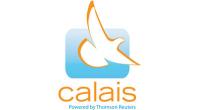 Thomson Reuters is the world's leading source of intelligent information for businesses and professionals. The company combines industry expertise with innovative technology to deliver critical information to leading decision makers in the financial, legal, tax and accounting, scientific, healthcare and media markets, powered by the world's most trusted news organization. With headquarters in New York and major operations in London and Eagan, Minnesota, Thomson Reuters employs more than 50,000 people in 93 countries. Thomson Reuters shares are listed on the New York Stock Exchange (NYSE: TRI); Toronto Stock Exchange (TSX: TRI); London Stock Exchange (LSE: TRIL); and Nasdaq (NASDAQ: TRIN).
The Calais initiative supports the interoperability of content and advances Thomson Reuters mission to deliver pervasive intelligent information. It leverages the company's substantial investment in semantic technologies and Natural Language Processing to offer free metadata generation services, developer tools and an open standard for the generation of seman-tic content. For more information or to get started with the Calais API, go to www.OpenCalais.com.