Darren Ferguson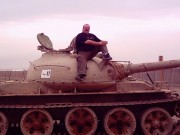 Software Developer
Darren is one of our senior developers at Openband. With Openband since 2000, Darren has been a go-to resource, especially for difficult and time-critical solutions. If an issue arises, it hasn't been unusual to get to work on a Monday morning and find Darren is 4,000 miles away handling a problem or getting a project back on track.
As we have ventured deeper into Drupal for some of our projects, our enterprise solutions have required modules and technology integrations new to the expansive and flexible CMS. Darren's more recent contributions to the Drupal community include fixing OpenID Provider for Drupal and extending the module into attribute exchange and working with another OpenBander, Alex Karshakevich, to bridge OpenID and Content Profile. He is also the current maintainer of Draft, and most recently built and is improving XMPPClient and the XMPP Framework modules. Darren is working on XMPP integration and online collaboration tools, as well as integrating ejabberd and OpenFire capabilities and extending its integration interfaces.
More than a Drupal developer, Darren has a knack for a number of platforms and an interest in optimization. A native of Scotland, his humor is drier than most. He recently admitted he'd like to someday learn PHP. He's also considering championing a bill to Congress authorizing a new $0.50 bill.