Denis V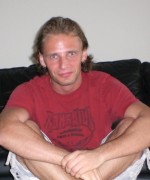 Denis is a catch-all programmer/front-end designer/coffee delivery boy. His experience encompasses IT management of the entire engineering life cycle and information system design and delivery. His current focus is in communication and hosted application development, though he's recently pursued cloud computing with interest. His recent contributions to Drupal include the Webmail Plus, Mail API, and Sniff modules.
Open Source is not a new field for Denis. He's been working with open technologies since 1997 when he started contributing to the Slackware Linux project. He's since established himself as a kind of virtuoso programmer, being able to change tack and invent the "music" as it's needed, where it's needed. As such, he enjoys being able to expand his repertoire every day and is determined to not waste any days by not learning.
His intense focus bleeds into other areas of Denis' life as well. A pro-level registered triathlete, he's regularly breaking boundaries on an athletic level as well as intellectual. He also plays guitar and writes a bit of music when he's not integrating communications or pushing himself through a brick workout.