Steve McCullough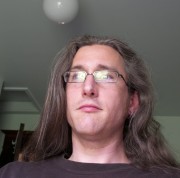 I'm the Chief Technical Officer for OpenConcept Consulting, which I think just means I'm the oldest. We collectively specialize in complex Dupal installation and development, including multilingual sites, e-commerce, and sophisticated Views/CCK systems. My usual work focuses on module development, CiviCRM migration, and systems administration.
My tech career goes back 25 or more years, when I learned to program rude graphics on an Apple II. I had short stints as a co-op student working with Fortran and S/360 Assembler, and then paid my way through grad school (PhD, English Lit) doing ASP and PHP web development. I was briefly an Internet pornographer.
When I'm not working for OpenConcept, I'm the IT department for my partner's business, Venus Envy, where I also give workshops on sex and sexuality. I am in the midst of migrating our home-rolled e-commerce site to Drupal + Ubercart.
Oh, and I host a few sites for friends on my server @ irrational.ca.
Company:
OpenConcept Consulting Inc.