Kyle E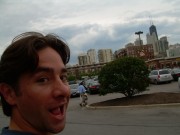 Drupal Fan and CDMUG volunteer. CDMUG.org is a Chicago user group of local individuals interested in learning and strengthening the Drupal Community in the MidWest. Discussing new and exciting Drupal-related news - or just socializing with like-minded people! Also we recently (Oct. 24, 25 2008) organized a successful 2-day Drupal Camp Chicago with 24 advanced and beginner session tracks and over 180 attendees. Our user group raised $1,500.00+ for the Drupal Association.
Currently using Drupal CMS for a personal project called TourSheet.com, co-owner of an eco-friendly composite deck cleaning chemical called Corte Clean, as well as the Director of Business Development at Trellon, helping companies or individuals needing to build a custom application or learn more about the Drupal framework.
Trellon delivers solutions that are fully capable of acting as the centerpiece of your social media strategy. The technology we use for deploying web sites can also be used to integrate with CRM solutions, deploy applications to social networks, deliver content to the desktop through widgets, interact with mobile devices, consume content from external sites, generate reports appropriate for external circulation, and perform other critical tasks. When properly implemented, our solutions fill a variety of roles within your organization and eliminate the need for some external systems.
Building integrated eCRM solutions that operate as part of your website is one of Trellon's core competencies. We have integrated Drupal with CiviCRM, SugarCRM, Salesforce, NGP, Raiser's Edge, Democracy in Action, Ning, eTapestry, Donor Perfect, Sage Systems and many others
Im particularly interested in entrepreneurial projects in the verticals of real estate, non profit organizations, social media, education, GIS / geo maps, local history, citizen journalism, facebook, mobile solutions, green initiatives and eco-friendly chemicals.