Sacha Chua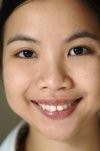 Sacha Chua is a Web 2.0 evangelist, storyteller, and geek with IBM Canada. She has been working on Drupal microsites for large clients since the beginning of 2008. She also does a lot of consulting around social media, Web 2.0, Generation Y, and other emerging topics. Her passion is helping people connect and collaborate, and Drupal provides a good platform for quickly building sites to support that. She also works with large enterprise offerings.
As a geek, she loves looking for ways to make things better. She practically runs her life in Emacs, thanks to a huge number of customizations, and she frequently blogs about her Emacs and Drupal tips. She has submitted a DrupalCon 2009 session on Totally Rocking Your Development Environment, and she's looking forward to sharing all sorts of really cool timesavers.
A former computer science instructor, she loves helping people learn more about technology and life in a fun and engaging way. One of her stick-figure presentations was among the winners of Slideshare.net's Worldwide Best Presentation Contest 2008, and her presentations are frequently featured on the site. She is also often requested to speak at events, and she has delivered multiple sessions and keynotes at technology conferences.
To learn more about Sacha, check out her personal blog at http://sachachua.com . If you think she's worth meeting, <a href="vote for her session on development tips. She's really looking forward to meeting you at DrupalCon 2009!