Carl Wiedemann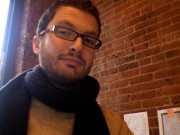 Carl is Technical Director of Elevated Third, a Denver-based web strategy firm.
He's been developing for the web since 2001 and developing sites with Drupal for about 18 months. Drupal clients include several small businesses, a large daily newspaper, artists and photographers, marketing agencies, sports organizations, and professional mentorship companies. The intersection of marketing and usability drives his professional interests.
As a consultant, he's as likely to be in a sales meeting as writing PHP.
As a developer, he's learning to use Drupal as a framework -- leveraging existing modules as APIs for custom modules, rather than as direct features (such as pathauto and views). Ask him about it over a cup of tea.
He thinks Jason Fried is "an alright guy." He refers to Seth Godin as "snappy." He shall quietly refer to everyone else at Drupalcon 2009 as "my peeps all up in this."
In his free time he enjoys exercise, cooking, and New Order.
At Drupalcon 2009, he hopes to find peace, love, and understanding, not necessarily in that order.