Sam Kleinman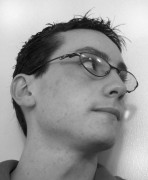 I'm a writer, editor and Internet Strategist for Trellon. I tend to the company website, and work on user experience stuff for our very cool clients.
I've been doing this "internet content thing" since the days when Greymatter was the hottest thing on the web, and the rest is pretty much history. I'm interested in how historical and cultural artifacts shape the open source and software freedom movements. I'm interested in how Drupal extends beyond the confines of "the web," and how Drupals flexibility empowers unique workflows and user interaction models.
Outside of Drupal, I'm an avid emacs user, and a huge fan of the Awesome Window Manager. I'm interested in stuff like xmpp, open microblogging, and lightweight knowledge management tools (a la muse-mode and org-mode). I write a regular blog independently of Trellon, that addresses ideas and conversations about software freedom, digital productivity, creative/fiction writing, science fiction, and other requite minutia.
Beyond the Internet I'm prolific, if somewhat lapsed knitter (yes, I probably made the sweater(s) I'm wearing), and an over committed Morris/folk dancer (it's a long story).