Steve Krueger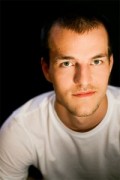 Steve Krueger has been an established graphic designer since he could use a pencil. His growing itch for conceptual graphics and web design began in high school with a background in classical arts and digital animation. Over the years he has grown into an advocate of open source software and has rooted himself in the growing community of Drupal, an open source content management system.
BCIT Being the introvert that he is, Steve spent his younger years honing his developmental and design skills while slaving away in his basement behind a computer. He was able to establish himself as a successful freelancer and later enrolled in the New Media and Web Development course at BCIT, upon graduation of high school. During the course of his program at BCIT, he completed a practicum with Raincity Studios where he is now working full-time as a Production Designer.
Steve lusts for knowledge and doesn't go a day without learning something new. He has experience in all fields of new media from programming in PHP, XHTML, CSS, to Flash design and actionscripting, as well as visual effects in After Effects and 3d Studio Max, and exemplary knowledge with Photoshop.
Aside from being seen nowhere without a laptop or computer nearby, Steve enjoys snowboarding in the winter, swimming in the summer, getting his feet wet with photography, and listening to any sort of music he can get his hands on.