Adam Rasmussen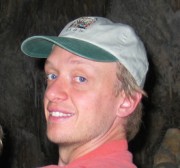 Adam Rasmussen is the founder and President of UX Interactive, an internet communication and technology firm providing user experience strategy, business analysis, project management, and software selection, implementation, and training services. He has more than a decade of experience helping non-profits, foundations, and small businesses develop and maintain successful online experiences. He's well seasoned in managing user needs driven web design projects, providing a variety of technical and non-technical stakeholders with professional strategic recommendations.
Before starting UX Interactive, Adam led web development projects for leading interactive web design and strategic communication firms, including Threespot, M & R Strategic Services, and Interactive Applications Group. While there, he produced dozens of public, extranet, and intranet websites, including the new Brookings Institution public site and a grantee extranet for the Pew Charitable Trusts.
Adam got his start in non profit technology from the inside, helping homeless service providers around the U.S. use the Internet to advocate for their cause and find valuable funding opportunities. From there, he expanded his reach by worked with volunteer driven organizations of all types to improve their volunteer recruiting, matching, managing, and tracking activities using technology.
Adam is a graduate of the State University of New York at Binghamton.