Jeff Miccolis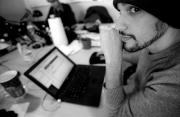 Jeff is a senior developer at Development Seed. He's an experienced Drupal developer with more than 50 websites under his belt, and he's co-created several innovative Drupal modules such as Spaces and Context.
Jeff has great overall technology chops. Whenever we find a glitch in a tool or an issue that we just can't resolve, we bring it to Jeff and he finds a way to fix the code to solve the problem. Jeff looks at problems from the long view and therefore finds solutions that fix the problems - for good. Whether it's a cross browser bug, an onslaught of spam, or something we've never seen before, we count on Jeff to nail the details so our tools work smoothly.
Since joining Development Seed in 2005, Jeff has been developing almost exclusively on Drupal. But he got his programming start long before that. Jeff has been staring at code since his family got a TRS-80.