Joshua Schroeder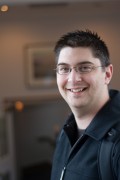 Joshua a Lullabot-trained Drupal developer of a little over a year, working at the University of Lethbridge in southern Alberta.
In his spare time, he is a hobby photographer, a very amateur guitarist, and a once-aspiring hockey player.
He is currently in the planning stages of a project to combine his new found Drupal passion with his love of sports.
Company:
University of Lethbridge