Ian Ward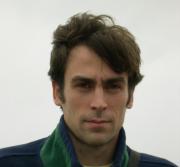 Ian co-founded Development Seed in 2003 and has been building with Drupal for over 5 years. Since 2003, Ian has been involved in everything from business and project management to module development and spraying the fire extinguisher on the server farm (that last one is figurative, thankfully).
Ian has been interested in web programming for much of his life and can truthfully say he made his first hack in BASIC on one of the very first computers Apple put out. He began seriously developing on the web in the late 1990s and hasn't stopped since.
Prior to starting up Development Seed, Ian worked at Green Media Toolshed, an organization that builds technical tools to help environmental organizations better communicate. While there, he worked on the organization's website and administered the tools behind its online community.
As an undergraduate and graduate student at American University, Ian studied international relations and international development and researched the impact development and environmental projects were having on communities in India.
After finishing school, Ian traveled to the mountains of Peru to study nonprofits' use of technology and worked with local organizations to implement open source solutions to address some of the communications problems they faced. While there, he co-founded Development Seed with Eric Gundersen.