Chris Geoghegan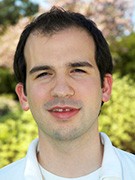 Chris Geoghegan is the project manager for ImageX Media and has been working with them since it first started into web development in 2004. With a background in international development and computer engineering, he is currently pursuing his MBA (Management of Technology).
Chris's earliest memories of programming begin at age 8, in front of a monochrome monitor, programming loops and if statements in QBasic.
What Chris loves about Drupal: "The great thing about Drupal is anyone can contribute. Even if you don't know a stitch about programming or web development you can still contribute. It's great to be part of something bigger than ourselves."