Caplital Drupalicon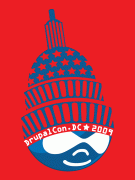 This image pays homage to one of DC's most prominent landmarks, the Capital Building, while providing a nod to the ever-growing framework we all know and love as Drupal. Underneath this framework is a community of developers, maintainers, artists, and visionaries the conference seeks to unite and empower.
This graphic is designed using only the colors Drupalicon brought to the table, keeping printing costs low. Also, the source file is vector, preferred by the print vendors for optimal print quality. See the full resolution version here.
Thanks much for your consideration.
-NP