Young Hahn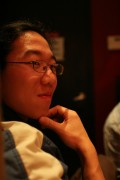 Young is the lead designer at Development Seed and uses his background in art and web technol-
ogy to create powerful and purposeful websites. He has experience in a wide range of traditional media including painting, printmaking, and video, as well as online media, and is a skilled open source programmer.
Young is a graduate of Williams College with degrees in studio art and philosophy. After moving on from ancient and postmodern philosophical paradoxes, Young became avidly interested in documentary film and social activism. He has collaborated on several public art projects, including CounterAct, an artist collaborative confronting racism in Europe, and the Feal Good Foundation's work to raise awareness about the health problems faced by first responders on September 11, 2001. More recently he has been helping Barak Obama become the next President of the United States by spreading his messages in a different light (www.changefor.com).
Since joining Development Seed, Young has brought a fresh perspective to our designs and has streamlined site administration and translation tools in Drupal. Young also played a major role in creating the Spaces, Context, and Context UI modules.