Matt Tucker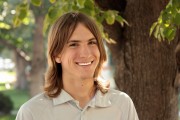 Matt has been designing and developing websites since elementary school. Directly out of high school, Matt was hired at Monarch Digital in Colorado Springs, CO where he began developing sites in Drupal professionally. Matt currently works for pingVision in Boulder, CO as a developer and themer. Although mostly working within the theme layer, Matt co-maintains and has written a few modules (soon to be contributed).
Matt is currently majoring in Computer Science and Mathematics at the University of Colorado. Besides PHP, Matt is fluent in C, C++, and Java, and knowledgeable in quite a few others. Although primarily focusing on web development, Matt has a strong background in cinematography and photography and enjoys a certain amount of artsy stuff.
Outside of the computer world, Matt is an avid ultimate frisbee player. He also enjoys running, biking, hiking, climbing ... basically anything outdoors.
DrupalCon DC will be Matt's first DrupalCon experience.