Nyk Cowham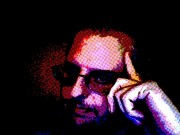 Nyk is a Senior Technical Architect where he is an expert at developing and customizing software tools to fit the needs of individual clients. He is adept at assessing existing client platforms and technology already in place, and advising on how best to utilize them to allow organizations to make the most of their resources.
Educated in England, Nyk graduated with a BA degree in Applied Social Science with a focus on research & design and organizational theory. Prior to joining Forum One, Nyk worked with the Defense Systems Management College in planning and implementing their group collaboration and decision support system.
Nyk has worked with a number of influential organizations including:
The World Bank
International Finance Corporation (IFC)
Public Broadcasting Service (PBS)
Corporation for Public Broadcasting (CPB)
The Bill & Melinda Gates Foundation
Robert Wood Johnson Foundation
African Wildlife Foundation
The Ashoka Society
AFL-CIO
Office of the Comptroller of the Currency (Treasury Dept.)
Economic Information Agency (DoE)
Economic Research Service (USDA)
Environmental Protection Agency (EPA)...
Company:
Forum One Communications