Greg Provo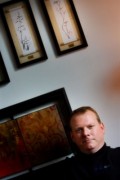 Greg Provo is the founder and CEO of Strategy Cafe, Inc a Richmond, Virginia based technology firm specializing in bringing an affordable Fortune 500 technology experience to growing businesses.
Greg has worked in the business technology industry for over 20 years in roles as various as business development, support, design, engineering, architecture, operations and development. Before founding Strategy Café in April of 2003, Greg spent 9 years working with Capital One, a Fortune 200 Financial Services Corporation. During his tenure at Capital One, he served as European Chief Technology Officer, Senior Director of Systems Architecture Programs, Senior Director of Emerging Technology Integration and Senior Director of Network Services.
In addition to his technology background, Greg has earned an MBA from Virginia Commonwealth University and a BA in History from North Carolina State University. Greg holds a Masters Certificate in Information Technology Project Management from The George Washington University, and a Certificate in Managing Individuals and Organizational Change from the Darden School at the University of Virginia. Most recently Greg has completed the Executive Series for Creative Brand Management at the VCU Brand Center.
Greg frequently addresses groups and university classes on the subjects of marketing, technology and entrepreneurship.