Eric Gundersen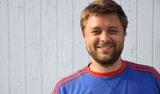 Eric Gundersen, President of Development Seed, has been an active Drupal community member for the last five years. Although he started off as a programmer, more recently Eric has been leading up communications strategy at Development Seed. Eric works closely with our clients in the start of projects to understand their goals and craft innovative and effective approaches that will meet them. Often times this process identifies gaps in Drupal functionality, which he then works to fill through leading the strategic side of development. Recently he's played a large role in hashing out the user interface for the Context module with lead developers at Development Seed.
Eric has also helped grow the large and very active Drupal community in Washington, DC. He leads up its monthly meetups and arranges other get togethers to help potential users understand the platform and help Drupal developers get to know each other.
Eric is a specialist in knowledge management and has presented his strategies and several of the tools we've built at conferences around the world. He's also involved with the MobileActive community, particularly with sms campaigns and playing with ringtones like "Brownie, you're doing a heck of a job." Eric has also appeared on Nightline to discuss culture jamming and last year's response to Chevy Tahoe's consumer generated advertisements and the online backlash.