Siruna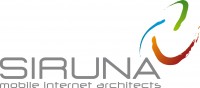 Siruna is a company dedicated to bringing the web to mobile devices. Siruna builds upon its expertise in usability design, authoring for mobile and automatic content adaptations. Given the rising penetration of mobile devices and data services, Siruna enables and creates the mobile presence of its customers.
Siruna services are based on easy refactoring and transcoding of desktop sites to mobile compliant sites, resulting in a fast and cost-efficient process with low maintenance costs. This is offered by the open source Composer and Adaptation Server, available on http://open.siruna.com. These tools can be run as a managed or self hosted service, and they offer additional valued-added services, providing easy customer profiling and location based-services.
For Drupal developers, Siruna is developing assisting modules that allow administrators easy management of both mobile and desktop content. For more information on this module or if you are interested in being a Drupal beta tester, please contact us at info@siruna.com.